Pike County, Illinois
Whitetail Deer & Turkey Hunting at it's Finest!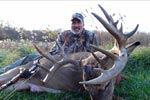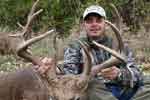 "As a television field producer for the last 20 years I can honestly say I've been very blessed to have traveled and filmed in some amazing whitetail hunting locations. It was a pleasure filming for companies such as Realtree, Hunter's Specialties, and North American Whitetail Television. One such location, stands at the top of a very short list as one of the best whitetail hunting locations I have ever personally visited.
Eagle Lakes Outfitters in Pike county Illinois is stacked up with mature whitetails running the river bottoms and hill ground where there service is located. Owner, Ted Sprague, and his guides carry a high standard by only allowing clients to harvest whitetails at the 130 inch mark and above. The service has several guides, with knowledge and understanding of how to help hunters wanting to hunt with archery, muzzleloader, shotgun, and crossbow equipment . In 2012 I was able to harvest my best buck to date, 170" gross 12 point, I follow up that deer in 2013 with another 160 gross 10 point. This is the right service for serious hunters!! Make the right choice this season, take a look at Eagle Lakes Outfitters."
Mike Clerkin - North American Whitetail Television, TV Team / Field Producer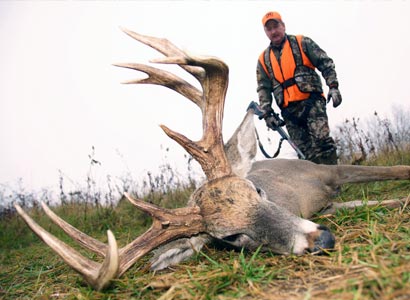 "We started hunting with Eagle Lakes a few years ago, Ted and his gang know their area and the deer! Today there are a lot of outfitters in Illinois, especially in and around the Famous Pike county, that promise you the world and deliver not very much. Eagle Lakes goes beyond to make ALL their hunters happy. You must remember that big bucks don't live behind every tree but if you want to have a solid chance at the wall hanger of your dreams... Eagle Lake Outfitters is our CHOICE!"
Ralph & Vicki Cianciarulo - Archer's Choice & The Choice TV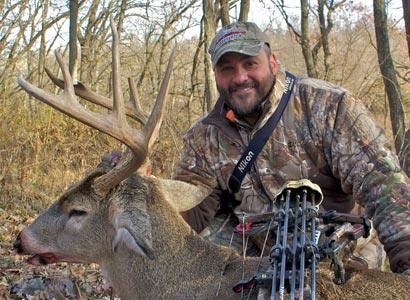 "Hi, my name is Morgan and I was 13 when I had the privilege to go on the 2014 Youth Turkey Hunt at Eagle Lakes Outfitters. I just wanted to say thank you to Ted and all the guides for their wonderful hospitality. I've had the chance to hunt many great places, definitely more than I could ever find on my own. Not only did I have a great time hunting and staying at the lodge, but I got to spend time with Dusty Perillo of Dressed to Kill TV from the Sportsman Channel. I hope that one day I can return the favor to Eagle Lakes Outfitters for a wonderful time and many great memories."
Morgan - Youth Turkey Hunter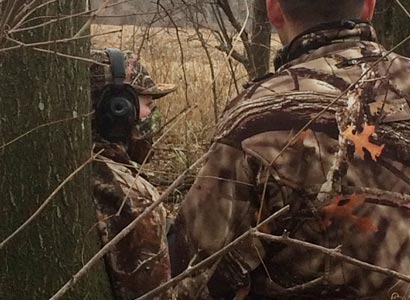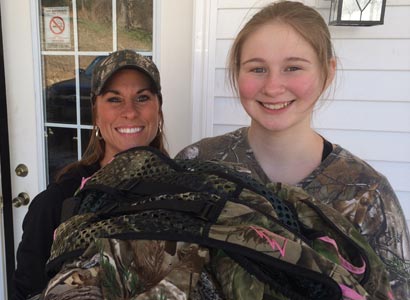 "Having hunted with Eagle Lakes Outfitters for over a decade, I can assure you the hunting and hospitality are world class. Famous Pike County Whitetails on picturesque Midwestern farmland, enjoyed with guides who treat everyone like family. Eagle Lakes possesses the resources to make your hunt a success, limited hunting pressure on ample acreage, combined with a team of knowledgeable local guides. The hunt of a lifetime served in a family atmosphere!"
Gordon Smith - Bolton, Massachusetts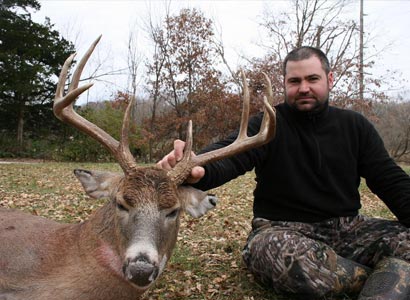 "My Dad and I had the hunt of a lifetime this past year at Eagle Lakes Outfitters! Pike county is a whitetail hunters paradise and has what it takes to grow some "Beast" of whitetails. Ted has some of the best ground in the area, and has a top notch crew to go along with it. Ted, Dusty, Frank and all of the guides hospitality made us feel right at home and took great care of us during our hunt. We felt like part of the family and not just a "number". These guys are extremely knowledgeable of mature whitetail and the ground they hunt on after many years of experience in this area. Eagle Lakes is an awesome place with great people and surely makes for one heck of a time! Thanks again and we can't wait to make more memories at Eagle Lakes Outfitters."
Ryan Adams - Louisiana
EAGLE LAKES OUTFITTERS
24044 State Highway 96 - New Canton, Illinois 62356
(217) 426-2404
info@eaglelakesoutfitters.com

Content Copyright © 2016 Eagle Lakes Outfitters. All rights reserved.