Pike County, Illinois
Whitetail Deer & Turkey Hunting at it's Finest!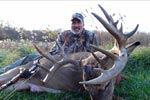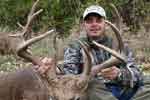 Ted Sprague - Owner
Ted's obsession with hunting began at the age of 4. His father was an avid hunter and wanted to pass the tradition on to his son. This fascination started with ducks and then moved on to the whitetail deer. Ted killed his first deer at the age of 6.
He has traveled to many locations hunting different species throughout his life, but his passion always lies with the whitetail deer and hunting big bucks.


Ted started Eagle Lakes Outfitters over 16 years ago. His main purpose was to provide the right environment for people to harvest a big buck and accomplish a goal of a lifetime! A big passion of Eagle Lakes is the youth hunt which is hosted every year. "There is nothing more satisfying than watching the glow on a child's face when they harvest a deer."


Ted enjoys planting food plots and helping with the conservation of the whitetail deer as well as other wildlife. He loves teaching his two children Ella and Quinn and other young kids about the tradition of hunting.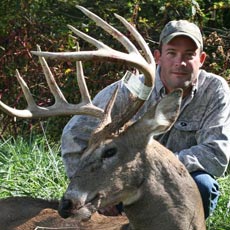 Dusty Sprague - Marketing Manager
Dusty Sprague is very passionate about everything she does. Dusty is an avid hunter and understands and accepts the challenges of hunting, while having the most fun she can. Hunting and being in the outdoors is who she is; sitting twenty feet high or being up close and personal in a blind is what she enjoys most.


You may recognize Dusty from her past filming experience for Doc's Team Extreme, Archer's Choice, The Choice and Scent Lok's High Places on the Outdoor Channel and now Dressed to Kill TV on The Sportsman's Channel. 

Over the last 15 years, she has been working trade shows, representing various manufactures in the industry, chairman of a Whitetails Unlimited Chapter, volunteering for wildlife organizations, as well as educating the youth at local Hunter's Safety classes.

Although she has dedicated most of her career to the education of kids with learning differences and dyslexia, recently she has been able to follow her second dream in life starting a new career as the Marketing Manager at Eagle Lakes Outfitters in Pike County, Illinois. With Dusty's vibrant passion for the outdoors and hunting she is sure to have continued success in hunting and guiding.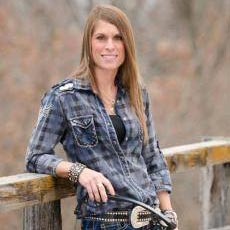 Pam Collard - Office Manager
Pam Collard is our new Office Manager, she is new to Eagle Lakes Outfitters but not new to Pike County. She grew up right next door to Ted's house and now lives and hunts on a 240 acre farm in southern Pike. In addition to excellent office and organizational skills, she is familiar with the area and enjoys the country lifestyle. Hunting, fishing, horseback riding, mushrooming, arrowhead hunting, and gardening are her favorite pastimes.
Pam has over 25 years of work experience, recently earned an AAS degree in Office Technologies. If you have any business to conduct during your stay with Eagle Lakes Outfitters, please see Pam and she will be happy to assist you.
Scotty Kendrick - Food Plot Nutritionist / Land Manager
Scotty has been with Eagle Lakes for ten years. He started his career with us as a whitetail deer guide. He did this for three years until he became engulfed in learning about the nutritional aspect of food plots and growing large bucks. Our management program along with nutrition has improved the number, size and trophy quality of the deer here at Eagle Lakes.
Scotty spends his days maintaining the grounds, food plots and farming. He is a great asset to Eagle Lakes Outfitters.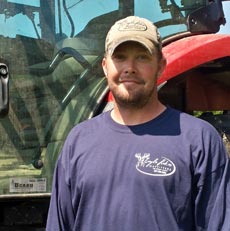 EAGLE LAKES OUTFITTERS
24044 State Highway 96 - New Canton, Illinois 62356
(217) 426-2404
info@eaglelakesoutfitters.com

Content Copyright © 2016 Eagle Lakes Outfitters. All rights reserved.