Pike County, Illinois
Whitetail Deer & Turkey Hunting at it's Finest!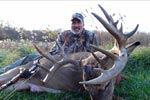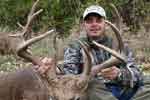 Eagle Lakes Outfitters Whitetail Deer Hunts - Firearm
Eagle Lakes Outfitters offers some of the finest firearm hunting for whitetail deer in the country. Illinois is unique in that only shotguns with slugs and muzzleloaders are allowed to harvest these trophy deer. This provides the opportunity for a close encounter with the trophy of a lifetime. All hunting is done from either ground blinds or stands and drives are strictly prohibited on our ground. All stands are setup with the archer in mind. This affords the firearm hunter with excellent shot opportunities. All hunts begin with the hunter arriving on the day before the hunt, after 12:00 Noon.
NOTE: The first 3 day gun season is usually set for the weekend before Thanksgiving and the 4 day hunt is set two weekends after Thanksgiving with the muzzleloader only hunt being the weekend immediately following the second shotgun season.

CERTAIN WEEKS ARE CURRENTLY BOOKED, PLEASE CALL FOR AVAILABILITY
Dates and Pricing
Arrive Nov. 16
Hunt Nov. 17-19
$2950
Arrive Nov. 29
Hunt Nov. 30-Dec. 3
$2950
Arrive Dec 7
Hunt Dec. 8-10
$2950
NOTE: Prices do not include Accomodations Tax.
Deposit
All Hunts Require a $500 Deposit (all deposits are non-refundable).
Unfilled Tag Special
Anyone with an unfilled tag may come back the same season and hunt for a daily rate of $300. There is no limit on the number of days as long as spots are available.
Permit Information, Application, and Other Helpful Links
http://www.eaglelakesoutfitters.com/links.html
Combo Hunts


3 Day Archery/3 Day Gun
Arrive Nov 13 . . . $4000
4 Day Archery/3 Day Gun
Arrive Nov. 12 . . . $4500
3 Day Archery/4 Day Gun
Arrive Nov. 26 . . . $4500
4 Day Archery/4 Day Gun
Arrive Nov. 25 . . . $5000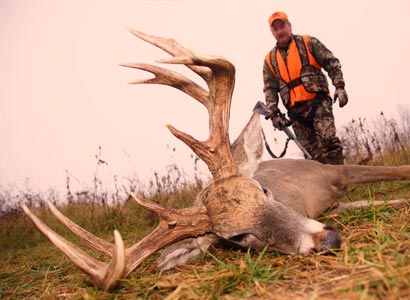 EAGLE LAKES OUTFITTERS
24044 State Highway 96 - New Canton, Illinois 62356
(217) 426-2404
info@eaglelakesoutfitters.com

Content Copyright © 2016 Eagle Lakes Outfitters. All rights reserved.